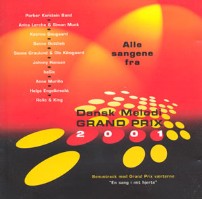 Mit Hjerte Det Banker (Danish Eurovision Song Contest)
(Compilation)
Being a part of the Danish Eurovision Song Contest was a dream coming true for Anita. Throughout her childhood she enjoyed watching the program with her parents every year. In 2000 a friend introduced Anita to Simon Munk and Per Lange – the people behind 'Mit hjerte det banker' – and Anita fell in love with the song right away. She ended up recording a demo version of the duet with Simon Munk in a studio in Copenhagen the very same evening they met. Afterwards she returned to London to continue her studies at Mountview Academy of Theatre Arts. Several months later she received the news that the song had been selected to be part of the Danish Eurovison!
Mountview Academy of Theatre Arts saw this as a huge opportunity for Anita and chose to replace one of her final exams with the contest. The TV show was broadcast live from Herning Messecenter in Jutland in front of a live audience of more than 5,000 people.
To listen to the album below, you'll need to sign in to Spotify. Don't have a Spotify profile? Click here to preview on iTunes.